Kitchen Storage Solutions in East Sussex
Kitchen Storage, Polegate
Considered and accessible kitchen storage is crucial to the interior design of homes in the Polegate, Eastbourne, Bexhill, Kent and East Sussex area. We work with leading storage manufacturers to provide you with the best possible storage solutions for your kitchen.
For many of us, the kitchen is the hub of the home – a central meeting point where the family comes together at the end of the day – so it's important to create a well organised space that is not only a pleasure to use but also assists our increasingly busy lifestyles.
With the growing trend towards open plan kitchens, it's more important than ever to get your kitchen storage sorted. As the kitchen area is always on show, you want a sleek, seamless finish with clutter concealed from view.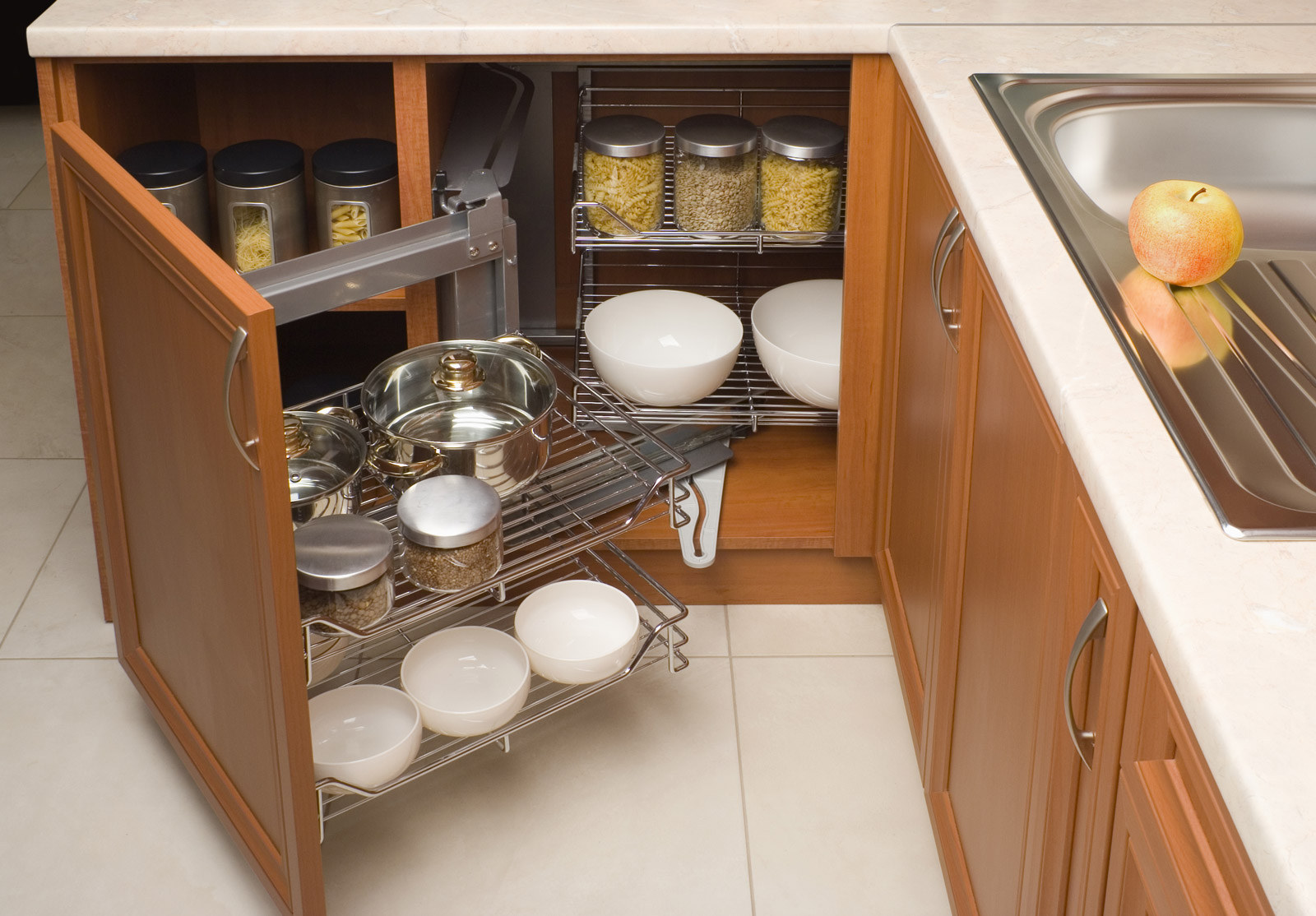 Benefits of Kitchen Storage
Flexible
Kitchen storage should always be flexible wherever possible. Even the smallest of kitchen spaces can incorporate intelligent designs that maximise capacity and accessibility. We want you to make the best of your East Sussex kitchen.
Small Details
It's not just larders, pantries and corner cupboards we concentrate on. We also care about the small details like spice racks in cabinet doors, cleaning product baskets concealed under the sink and pull out wicker baskets.
Surface Value
When it comes to worktop level, there are plenty of ways to make kitchen storage work. Tambour roller shutters can be used to conceal a small shelving unit where small appliances and accessories can be hidden from view.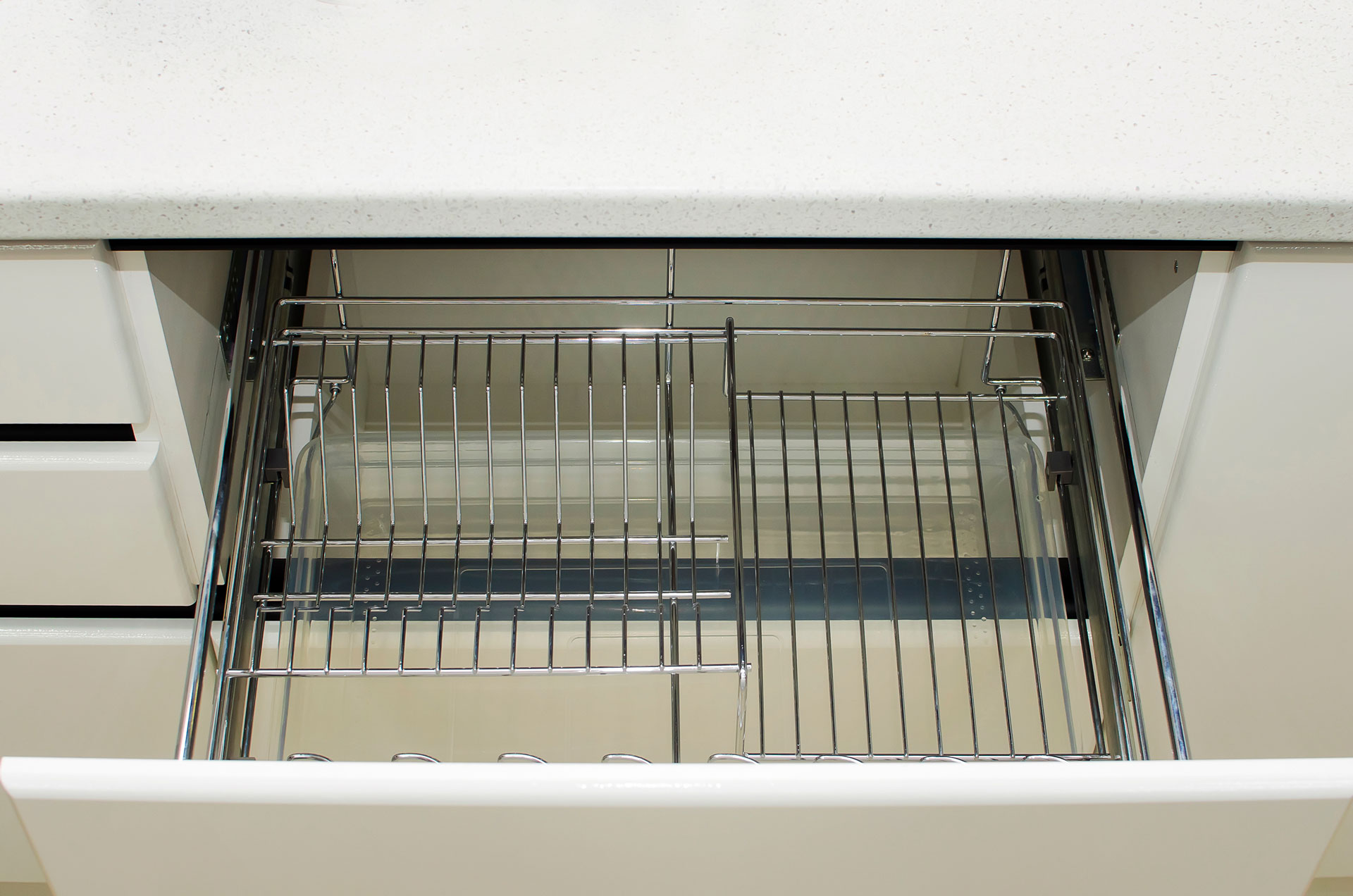 Why Choose Us?
Take a walk around your current kitchen and think about what works and what doesn't. Where should things ideally be placed for a better flow? It makes sense to keep plates near the dishwasher for easy unloading, baking trays close to the oven for cooking and condiments beside the hob for instant seasoning. These are all things that can be put in place once you begin to plan your new kitchen with us.
Our experienced team will help break down your kitchen into different zones for different activities. We'll help you understand the areas where you require kitchen storage, and the type of storage that would best resolve the needs of you and your family. We bring decades and decades of collective experience to the fitting of every kitchen, having served the Polegate community since 1988.
Whatever your kitchen storage dilemma, there's a solution to suit. If you're always looking for a spare plug point to use the hand mixer or charge the mobile or laptop, you can now have a pop up three point plug socket that sits discreetly beneath the worktop, when not in use then simply pops up when needed.
Request a Free Online Quote
Start Your Kitchen Storage Quote for Your Polegate & East Sussex Home
Request a bespoke storage renovation quote by contacting the Homecare Exteriors page directly.
Bespoke Kitchen Storage Installers in Polegate
There's no excuse to lose any space in a corner cabinet, as there is a wide variety of clever solutions for both base and wall units. Curved cabinets and worktops are one of the latest trends in kitchen design, especially for island units, so a bespoke corner system can be created to suit.
Choose from easy action carousels which can rotate 360˚ and swivel out from the cabinet when the door is opened. They can also be used to store small appliances such as juicers, blenders and mixers, which frees up space on the worktop. This will enable you to have more room for preparation as well as displaying the statement pieces that you really love.
Think about your needs in terms of drawer storage. Deep pan drawers are perfect for bulky and awkwardly shaped pots and pans, cutlery inserts are ideal for cutlery and utensils, peg systems and plate holders can be used to keep crockery in place while bespoke designs can create anything from personalised spice racks to engraved wooden bread bins.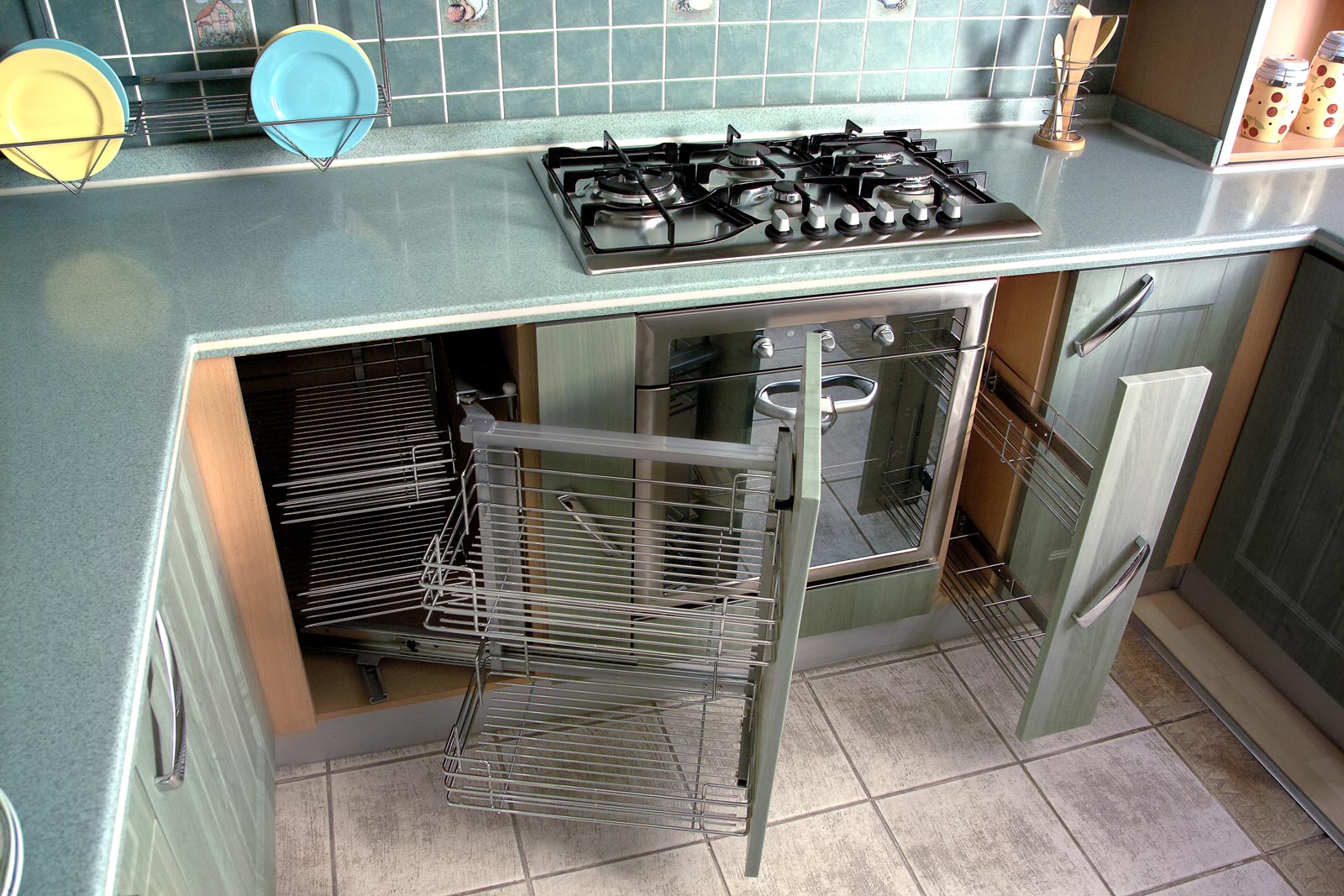 Pantries and Larders
Kitchen larders and pantries are making a major comeback with a recent surge in popularity across the Polegate and East Sussex areas. As more of us cook and entertain at home, there has been an increase in the demand for dedicated food storage.
Equipped with anti slip shelves, effortless action and soft close doors and drawers, the focus is on easy access and efficient ergonomics. There are pull out larders, tandem larders and swing larders to choose from depending on your kitchen size, shape and style.
It's amazing what you can fit into a pull out larder. They are designed to maximise kitchen storage capacity in a single space, allowing you to easily find items. Slimline pull outs are great for filling in space at the end of a run of units.
Tandem larders are incredibly versatile and are available in a range of heights and widths to accommodate all kitchen layouts. To find out more about our kitchen storage solutions, get in touch today.
View & Download our Brochure
Kessenbohmer Wall Fittings Catalogue
Create or Renovate your Kitchen
Find Kitchen Storage Prices in Polegate Today
Request a quote today, completely for free, for our kitchen storage solutions. Whether they're an isolated renovation or part of a larger kitchen refurbishment, we'll be happy to consult, specify and quote the work.
Simply get in touch via our online form and we'll organise a callback as soon as possible.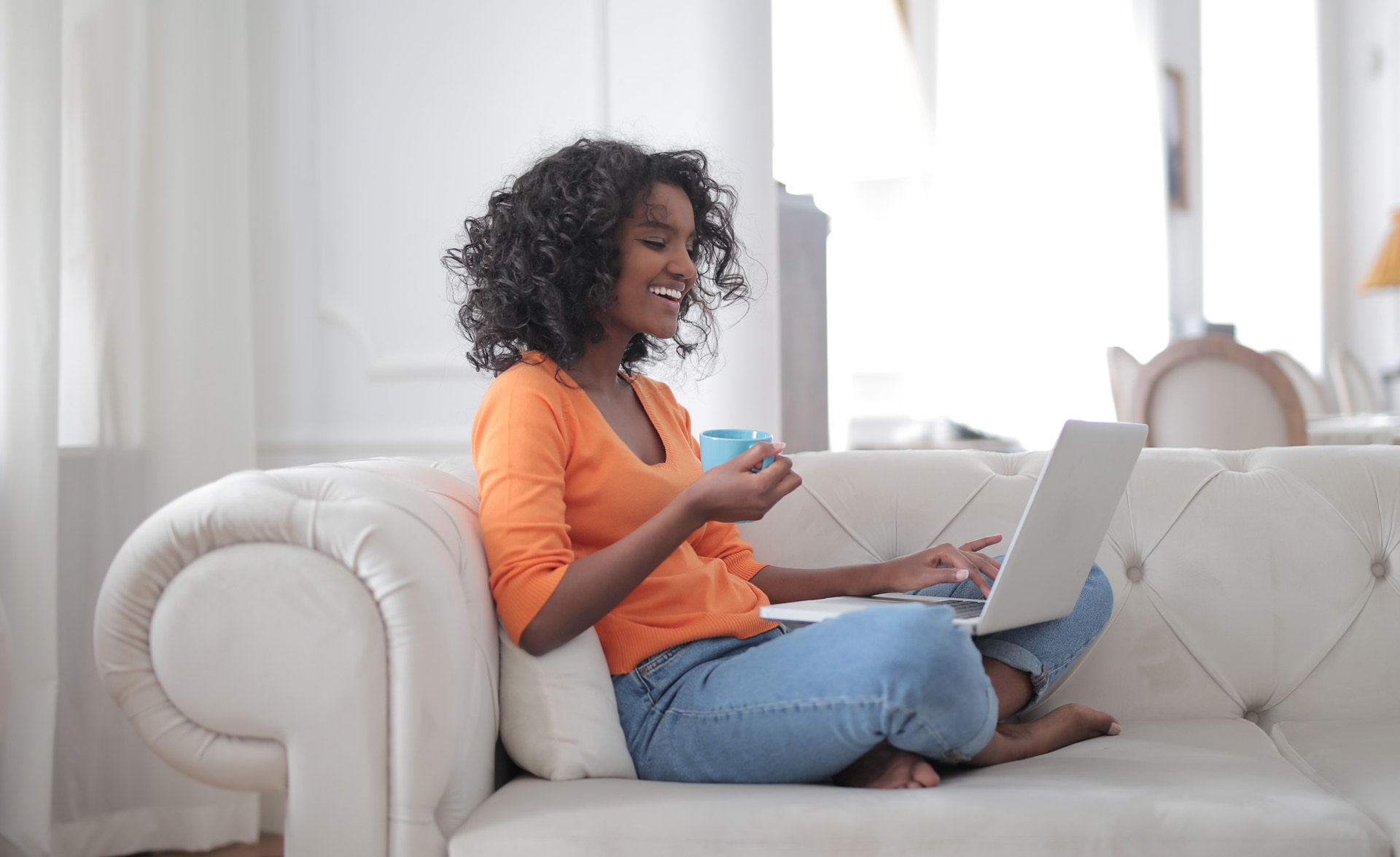 Visit our Showroom
If you would like to see our stunning home improvement products in person, visit our local Polegate showroom today. A member of our in-house, expert team can also consult you regarding your desired home renovations. Whether you're looking for a replacement window, new kitchen or a set of bifold doors, we can advise you on your options and provide an accurate price. Visit us today!