Are You Looking For Aluminium Bifold Doors?
More living Space
The use of glass in architecture causes boundaries and facilitates communication between indoors and outdoors.
Folding glass doors from Solarlux set standards in this unique interplay.
They are examples of new contemporary living concepts, offering openness coupled with security.
Thresholds vanish as the glass panels fold to merge indoors and outdoors, completely opening up the living space into the garden.
Folding glass doors thus offer more space in every dimension: more light, more air, more space – more enjoyable living!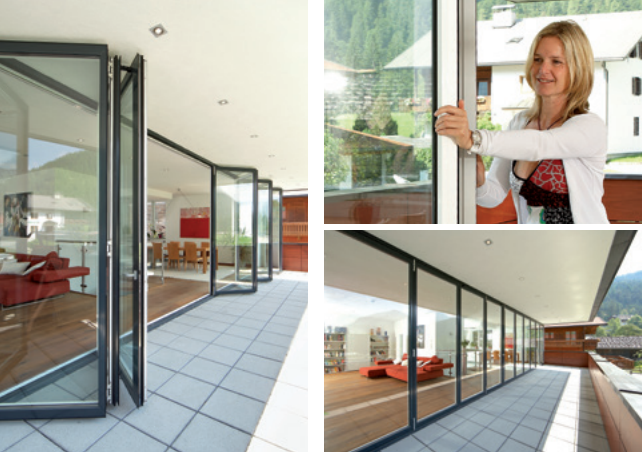 Solarlux Aluminium Bifold Doors
Create individual living spaces, wide-open and flooded with light, which remove the barrier between inside and out and improve quality of life and ones living environment. Whether the space is used for private, public or commercial purposes, our innovative glazing solutions made of aluminium, wood or wood/aluminium enable you to achieve sophisticated architecture for both new builds and renovations.
Opened across the entire width, folding glass doors remove all boundaries to living space, giving the term "open plan" a wholly new dimension. The custom-made flexible glazing solutions by Solarlux can be opened or closed to the width you require easily.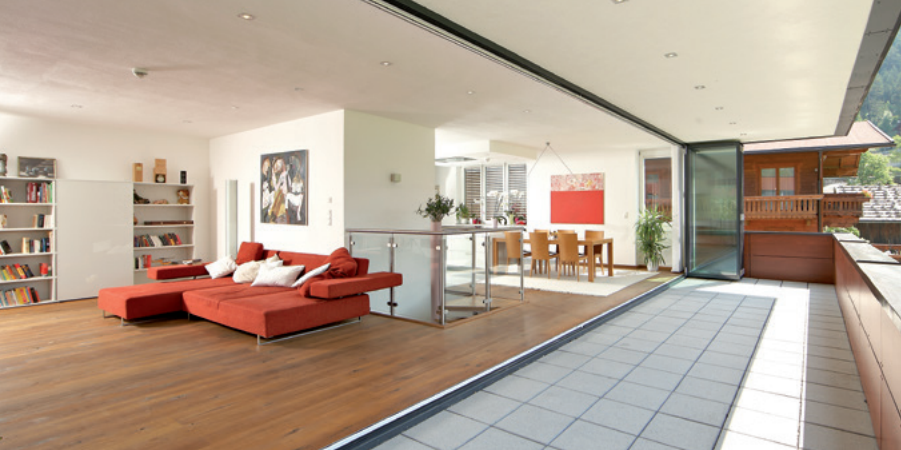 Expansive: The absence of a threshold between inside and outside gives more living space.
Space-saving: A five metre wide folding glass door can be easily folded away like an accordion to a mere 50cm in width.
Varied: The aluminium, wood or wood/aluminium systems assimilate perfectly with the style and architecture of the house.
Flooded with light: Large expanses of glass let daylight deep into the interior of the house.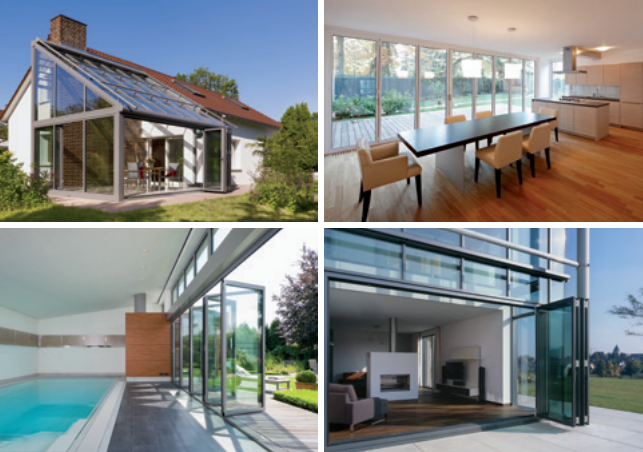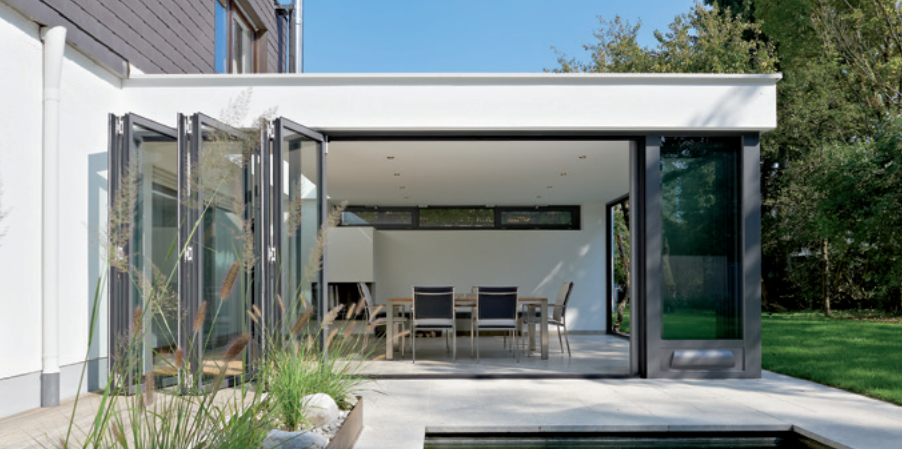 Endless Opening Options
Period property, new build, stylish country home, modern town house: folding glass doors lend every property a unique sense of space and ambience.
As an interior partition wall
To open up the room to the balcony, patio or garden
To transform your glass canopy into a glass house
Or as balcony glazing
Take inspiration from these impressive examples of innovative folding glass doors in use.
The one factor which unites all our solutions is the outstanding quality both of the materials used and the structural implementation. As the market-leader in folding glass doors Solarlux offers you a large selection of different systems for every application, uninsulated or with maximum heat insulation.
Ultimate Design Freedom
Make the most of total flexibility: opening out or in, folding to the left and/or right, Solarlux folding glass doors offer countless opening options.
In addition, the range of bespoke solutions also includes turn-and-tilt panels and window elements.

Modern interior design creates usable space with an expansive wrap-around opening.
The ground floor is dominated by a spacious, open-plan room: modern and multifunctional, it serves as kitchen, dining and living area all in one. The flexible wrap-around glass front allows one's gaze to drift unhindered across the garden.
When the folding glass doors are open, living space and patio become one, defining the garden as a natural extension of the home.
When the glass elements are closed, one's view remains boundless and offers a sense of expanse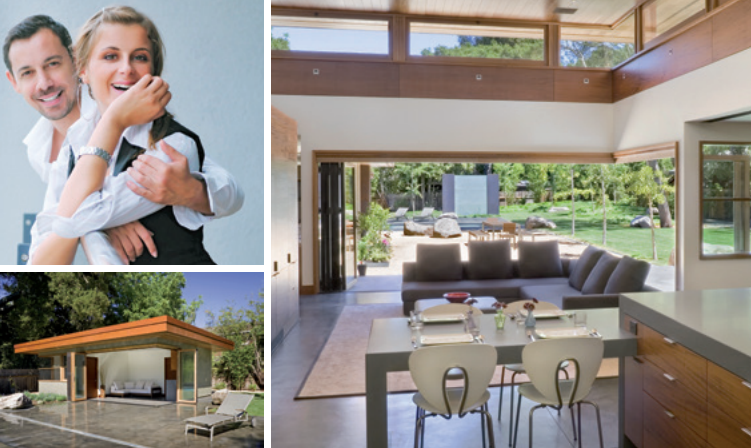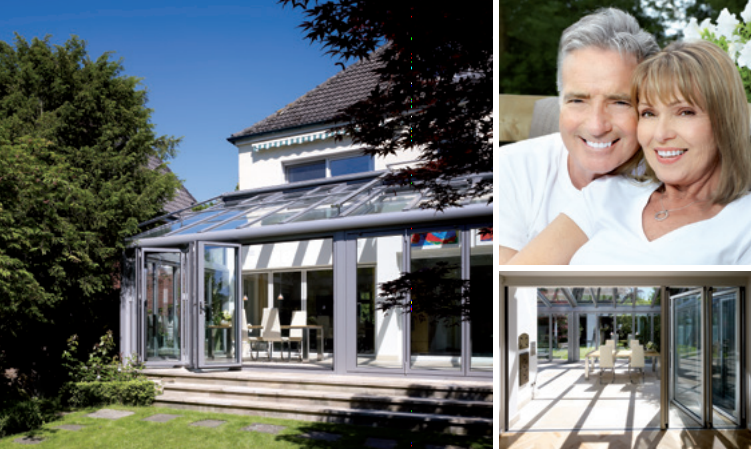 Wintergarden With A Folding Glass Door
With a wintergarden from Solarlux, you are gaining a new favourite space full of light and airy transparency. House and garden blend into one in this space, which brings nature into the heart of the home. Thanks to the flexible folding glass doors, you decide where the threshold begins and ends, according to the weather and use of space.
Folding glass doors form a partition between the living space and the wintergarden, and create a threshold between wintergarden and nature. They thus help to regulate the indoor climate: a highly efficient heat-insulated wintergarden captures the power of the sun, thereby heating the living space.
Awards and Certificates
The high quality and durability of Solarlux systems have been proven time and time again around the world, and are certified both nationally and internationally.
All Solarlux systems are constantly tested and subject to continuous further development.
Sound insulation
Impermeability
Burglar protection
Resistance to wind and hurricane
All these have been tested and certified by renowned test institutes, both domestic and foreign.
One of the highest standards which Solarlux has set as its goal is the perfect synthesis of design and functionality.
This ethos led Solarlux to develop the folding glass door SL 82, which is thermally insulated to conform with the latest EnEV, for visually and architecturally superior solutions. And already it has received two design prizes – the iF design award and the red dot design award!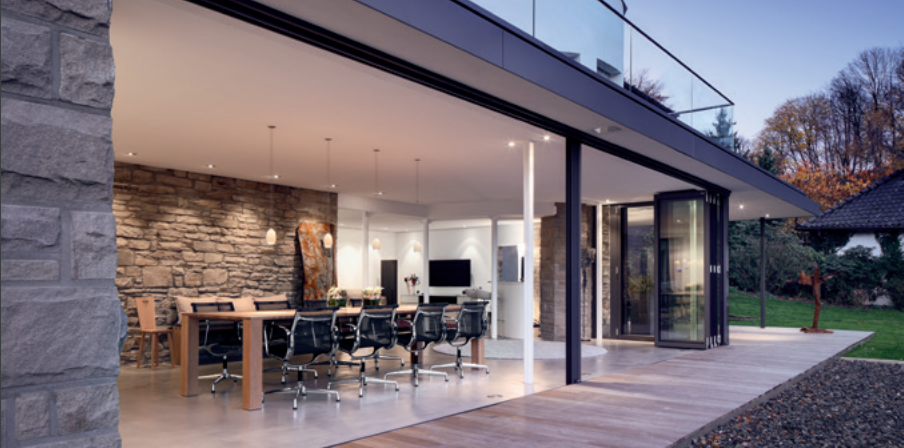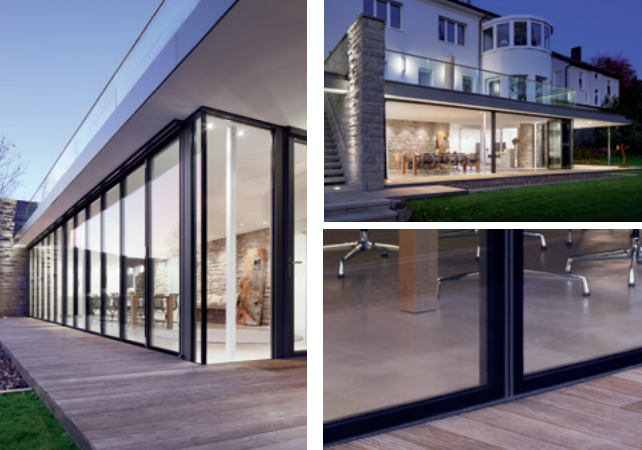 See all of our Aluminium doors
Explore all of our products
Visit our Showroom in Polegate, East Sussex